WORLD PREMIERE OF MINHA TERRA
March 22, 2017

MINHA TERRA DOCUMENTARY
February 20, 2018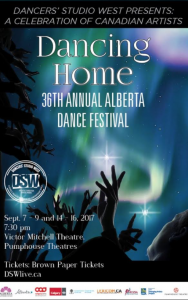 The Alberta Dance Festival will be featuring the piece Kosmos, a composition for piano trio composed by Denis Nassar. The festival will also feature pieces from other fantastic composers such as: Hope Lee, William Jordan, Laurie Radford, Vincent Ho, Naithan Bosse, Brian Garbet, Alyssa Aska, David Eagle and Ilkim Tongur.
Presented by Dancers' Studio West, the 36th Annual Alberta Dance Festival turns to the work of Canada's long history of artists for inspiration. Dancing Home will feature new works by eleven Alberta contemporary dance choreographers in two distinct programs of performance over two weekends.
The 36th Annual Alberta Dance Festival | Dancing Home runs September 7-9 & 14-16 at the Victor Mitchell Theatre (The Pumphouse Theatre – 2140 Pumphouse Ave SW, Calgary).